Lousiana...The most interesting state in the USA
Louisiana is arguably the most interesting of all the 50 states. Famous for its zesty Cajun and Creole cuisines, it is equally remarkable for its lively yet gracious lifestyle, carefree music and unique customs. Mardi Gras is just our most famous tradition. There are also King Cakes (see below) during Epiphany, bonfires and candelarias at Christmas time, and year-round parades for just about any occasion. Northern transplants quickly learn that air conditioning (we do it right!) has tamed the worst heat and humidity of July and August, and that life is just more comfortable without a heavy parka. Seasons in our semi-tropical climate are marked by definite changes in the weather (it can snow, but you will not need a shovel---and rumor has it that Louisiana snowflakes taste spicy). Seasonal changes can also be clocked by the comings and goings of North America's most diverse wildlife, or by which flower is in bloom--something always is!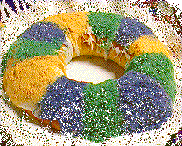 King Cake Plantation Home
Left. Beginning with the season of epiphany in the Catholic church, your coworkers practically everywhere in Louisiana will bring a King Cake to work each day. The cake itself is like coffee cake; the best ones contain a rich cream cheese filling, but many other fillings are available. Buried inside the cake is a baby Jesus doll, usually made of plastic. The person who gets the piece with the doll in it must bring King Cake the next day. King Cakes are just one example of the fascinating cultural tableau that is Louisiana. King Cakes ensure that Louisianians have enough energy to get through the Lent fasting period that follows Mardi Gras.
Right. Plantations grace the countryside, recalling the bygone era when the Mississippi delta was developed by French, Spanish and German settlers eager to earn their fortune in sugar or indigo. Many plantations offer bed and breakfast facilities, bird watching and beautiful gardens.
The LSU tradition begins with the founding of the Louisiana State Seminary of Learning and Military Academy in 1855 near Pineville, Louisiana. When the Civil War began, the school's first superintendent, William Tecumseh Sherman, resigned to assume his historic command in the Union Army. The school moved to Baton Rouge in 1869, and was renamed to Louisiana State University in 1870. In 1877, LSU merged with the Louisiana State Agricultural and Mechanical College in New Orleans to finally become the Louisiana State University and Agricultural & Mechanical College. Classes have met on the present 2000-acre site since 1926. LSU is the largest university in Louisiana, and one of only 25 land grant and sea grant universities. LSU is classified by the Carnegie Foundation as a Research I university. This highest ranking is shared by only 45 public and 25 private universities in the United States. The annual university budget is about $250 million, not including the Agricultural Center ($70 million). About $158 million annually is spent on hundreds of sponsored research projects.* Bachelor's degrees are offered in 105 major fields, Master's degrees in 76 fields and doctoral degrees in 48 fields. The total enrollment of 26,000 includes about 5,000 graduate students. Through its many cultural, athletic and community activities, LSU exerts a major influence on Baton Rouge and all of Louisiana.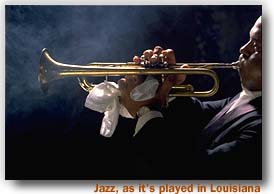 *For university research data, see: http://thecenter.ufl.edu/research2001.html
Accessibility Statement Provide Website Feedback